Snap®
Disposable Breath Alcohol Test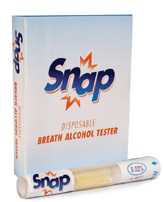 OVERVIEW
SNAP is a disposable single-use breath alcohol tester designed to quickly test who has been drinking and who has not. SNAP is available in multiple percentages to test different levels of breath-alcohol concentration (BAC), suited to a variety of testing requirements. If the crystals change color, the subject has a BAC at or above the indicated level.
FEATURES
Easy to Use
Just break the inner glass tube with your fingertip to expose the crystals to air. Blow through one end of the tube to conduct the breath sample. If the yellow crystals turn white, blue or green, the subject's BAC level is at, or above the indicated level on the product label. Results appear in under 2 minutes.
Ready When You Are
SNAP uses alcohol sensitive crystals that change color when exposed to alcohol from the subject's breath. Since no batteries are required, SNAP is ready when you are. It's perfect for marine use, high schools, probation and employment testing or any time a quick breath sample is required.
Multiple BAC Levels
Whether you operate in a zero-tolerance environment or have pre-determined alcohol tolerances, SNAP is perfect for any requirement. Available in three BAC levels, SNAP helps you determine which level is best for your application. Use the 0.02% for zero-tolerance or the 0.05% or 0.08% for general alcohol screening.
SPECIFICATIONS
Size: 67mm x 8mm
Weight: 2 grams
Sensor: Crystal
Breath Sample: 5 second moderate and continuous breath sample
Analysis Time: < 2 minutes
BAC Readout Format: mg%
Range of Measurement: 0.02, 0.05 & 0.08mg%
Display: Crystal colour change
WARNING!
Use immediately after breaking glass vessel. Do not use if glass vessel containing crystals is ruptured prematurely or if crystals are not yellow.
Keep out of reach of children! Do not immerse in any liquid! DO NOT INGEST, if ingested, induce vomiting and contact your physician.
This product should be used only as a screening device and is only an indication of the possible presence of alcohol in the blood of the test subject. Correlation between breath alcohol content and blood alcohol content depends on many variables, including altitude.
The exact concentration of alcohol in the blood of the test subject cannot be accurately determined by using this device. The device is not intended to legally determine blood alcohol presence or level.
SNAP disposable breath alcohol testers is guaranteed to be free from manufacturer's defects. The warrantor expressly disclaims liability for incidental, special, or consequential damages or any nature.