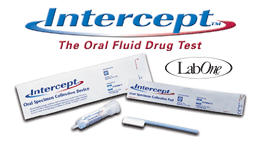 Introducing Intercept™
Oral Fluid Drug Test

Discover the oral fluid solution to modern drug testing. The Intercept™ Oral Fluid Drug Test system provides a smart alternative to costly, inconvenient and often embarrassing drug testing. This new testing system detects the "SAMHSA"

drug panel - THC, cocaine, opiates, PCP and amphetamines - without the need to collect urine. Use the donor-friendly collection pad to collect the oral fluid sample and send it to the laboratory for "next-day" reporting on negative results and a 48- to 72-hour turnaround for confirmed positives.
Oral fluid drug testing.
No bathroom required.
Oral Fluids can test for...
NIDA-5 - •THC •Cocaine •Opiates •Amphetamines •PCP
ALCOHOL - •Q.E.D.© Saliva Alcohol Test (rapid)
OTHERS - •Benzodiazepines •Barbiturates •Methadone
Effective for all testing situations...
Pre-employment
Random
Post-accident

Reasonable cause
Return-to-duty
The Intercept™ Collection is as easy as...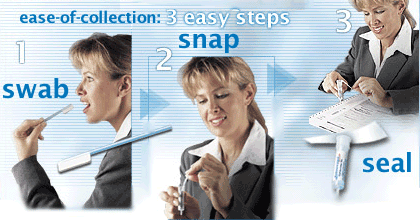 Cost Efficiency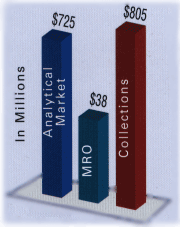 With urine-based testing, you are paying not only for test results, but also often for collection, scheduling, supervision, and training. And what about the downtime while your employee or candidate visits an off-site collection facility across town? Multiply your costs and hours by the number of employees you test each month and it adds up quickly. With Intercept™ testing, you reduce or eliminate collection fees, minimize scheduling issues, and greatly reduce lost work time. The improvements to your company's bottom-line will be noticeable.
Control the Process
Unlike urine samples, oral fluid samples can be collected anywhere, anytime. No special facilities are needed. With the

Intercept™ system you can have the option of collecting samples in-house, which means no scheduling hassles or collection fees. The collection process can take place in a small conference room or in an office rather then in a rest room The Intercept™ system makes it easier for you to test employees at multiple plants and other facilities. A training program is available to all staff involved in the collection process.
With the Intercept™ collection pad, the donor can easily provide a sample and seal it into our special shipping vial in about two minutes. Just place the specimen vial and chain-of-custody form into a convenient shipper for overnight delivery to our central lab. The laboratory uses proven immunoassay processes and reports negative results the same day samples are tested. Positive results are confirmed using GC/MS/MS, the "Gold Standard," and are reported within 48 to 72 hours.
Less Embarrassing

The act of urinating in a cup is at best demeaning and can be awkward for both the person being tested and the collector. The Intercept™ system delivers a safer, more dignified and observable collection method. The dignity of the collection method is a real benefit. After all, these are your employees and potential hires being tested. We can help you make a good first impression.
Adulteration
Drug users have many options to try beating a urine test. Intercept™ Oral Fluid Drug Testing nearly eliminates the risk of adulteration. It's virtually impossible for donors providing oral fluid samples to mask drugs in their system. Besides Intercept™ collections can always be directly observed. "Beating the system" just became more difficult.